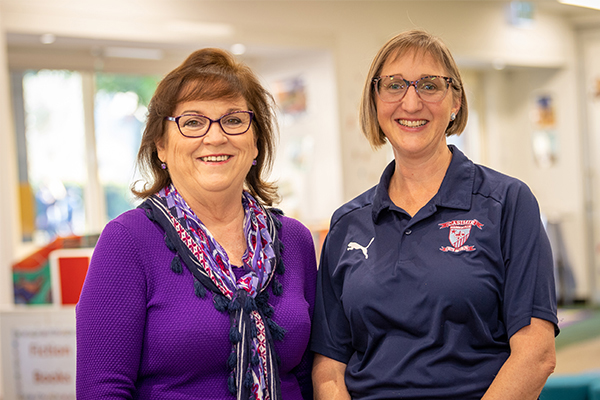 In an era when Google is a verb and finding information online can be compared to drinking from a fire hose, teacher librarians are taking their role as information curators and innovators seriously.
Close to 120 teacher librarians from Catholic and Independent schools in NSW and the ACT discussed how to lead innovation and boost literacy in their schools at the Teacher Librarian Professional Learning Community's (TLPLC) May conference.
They were helped by the star power of Australian children's authors and guest speakers Deborah Abela, Oliver Pommavanh and Mick Elliott, whose books also give young readers a chance to make sense of their worlds.
Almost half of the delegates were from Sydney Catholic schools, and discussed literacy, STEM skills, computational thinking and neuroscience in keeping with their conference theme 'Librarians Leading Innovation'.
The school library allows students to make reading part of their everyday lives, improving educational outcomes.
Executive Director of Sydney Catholic Schools Tony Farley delivered the conference opening address, speaking of the important role of teacher librarians in curating information and his personal connection to stories.
"Reading sustains me in a way that nothing else does – if you read, you live in a bigger world," he said.
Teacher librarian at St Brigid's Catholic Primary School Marrickville Catherine Rigg chairs the professional learning group.  She said the world of teacher librarians had similarly expanded, their lesson plans now including how to produce digital content, coding, cyber safety, information on copyright and plagiarism, digital ethics, website evaluation and more.
"Libraries continue to have a strong literature focus, however the school library is well placed to deliver programs and services to support STEM education and teacher librarians also incorporate digital features into their teaching programs," she said.
"Students can be overwhelmed by the huge amount of information available to them. A well-managed school library, with a trained teacher librarian, will assist students to navigate this 'information superhighway'. The conference provided innovative ideas and strategies that delegates were excited to take back and implement in their schools."
Deborah Abela was keynote speaker at the conference.
"Her Grimsdon series is set in a post-apocalyptic future where the world has been forever changed by rising sea levels," Mrs Rigg said. "The characters have to be resilient, creative and resourceful to survive, qualities we want our students to also develop."